In this episode, we get to speak with Patrick M. Powers.
He founded The World's 2nd largest business meetup with over 27000 members. His expertise is Pitching, Presentation, Lead generation, Copywriting, and Sales Funnel conversion. He's a master in influencing and persuading with words.
He also authored a few books, including How To Conquer Fear Of Public Speaking and "Turn Your Contacts Into Cash."
He teaches the science of getting connected to anyone, anywhere, even VIPs.
His meetup group of 27000 Entrepreneurs is mainly in London/UK and through the website Vipdinners.com.
Patrick hails from fantastic Denmark and has lived in 9 countries and currently resides in Surrey/UK.
Let's find out more about how he got into where he is.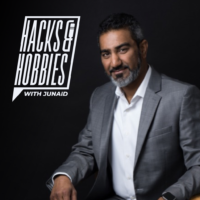 Junaid Ahmed has been a user experience designer for over 15 years. As a UX professional, he uses the user-centered design philosophy to come up with solutions. Trust the system, it works!
"People say that we only live once, but I believe in living every day!"
Junaid has been interviewing people from all walks of life on his podcast Hacks and Hobbies.