Welcome to the
Hacks & Hobbies podcast
Today I'm honored to bring my really good friend Chris Williams to the podcast. He's the reason I've been consulting clients all over the world to build their Home Studios. Chris spends most of his time raising his five kids, exploring world communities, and trying...
read more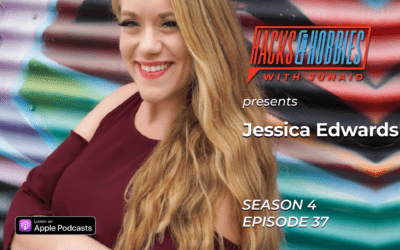 Jessica Edwards is more than just a marketer. When she takes on a new client, she helps them optimize their business in every way possible from their processes to their policies, to their branding. She offers comprehensive services that allow her clients to have a...
Suzan Manis is an artist, mother, and a new children's author from dale city va. She recently published a Children's book called The Land of All Work and No Play about a young boy learning some life lessons. This book has been a very personal and special project for...
Today we get to speak with Expert live stream coach and accomplished content creator, Kirk Nugent, who has reinvented how small businesses, entrepreneurs, and faith-based entities reach the world. Whether he is engaged in one-on-one training to help those who seek to...
Today I got to speak with Travis a retired Naval Officer, married with two children, and on move #50. His humble beginnings include 36 moves before graduating high school at 17, 12 schools, 6 states, 5 foster homes, surviving 2 murder attempts, and mother with type 1...
Today we get to speak with Hala Taha dubbed the "The Podcast Princess," who is the host of Young and Profiting (YAP) Podcast, frequently ranked as a #1 Education podcast across all apps. Hala is also the founder and CEO of YAP Media, a social media and podcast...
Today we get to speak with Dr. Efrain Lopez. He's a military veteran proudly serving in the US Coast guard for 16 years and continues to serve as a reservist. Dr. ELO also worked as a Civilian for 5 years and continues to serve as a civilian in the maritime...