I started this podcast as a way to capture my journey to beekeeping and documenting my many hobbies from how I started to where I found success through the process. Why Beekeeping? In 2012, we visited my sons allergist where he mentioned how local honey can be a great way to combat seasonal allergies.
In 2017, I had the means to keep beehives and I finally took the plunge and signed up for a beekeeping class locally. Around the same time I was also reading Gary Vaynerchuk's "Crush It! & Crushing It!" books. It inspired me to take the plunge and get back into podcasting again.
For season 1, I focused on documenting the journey around Beekeeping.
With season 2 and 3, I started reaching out to others that were likeminded entrepreneurs, speakers, writers, authors, actors, producers and learning about their journey.
Here's a list of all the episodes published on the podcast. As an educator, I like to focus on education and learning how things work.
In this episode, we get to speak with Brian Schulman. He is the Founder & CEO of Voice Your Vibe. Forbes Featured Entrepreneur, Linkedin Top Voice 2018, an Advisor, Board Member and a Speaker. He has 21 years of enterprise experience leading organizations and...
read more
In this episode I get to speak with Jim Beard. He's a Content Creator, an Innovator. A Visualization Consultant, 3d Producer and a 3d Team Lead. He is interested in pursuing a challenging leadership position applying creative problem solving and lean management skills...
In this episode I get to speak with Amanda Catarzi. Amanda is a Messaging & Copywriter Specialist. She's been helping those struggling to be heard in the digital marketplace. Those have tried all the tricks, but for some reason it's like their mic is off or muted...
In this episode I get to speak with Robert J Moore. 5x's internationally Awarded Bestseller, Speaker, Business Coach, publisher, and a Guinness World Record holder. He is also the founder of Magnetic Entrepreneur that helps individuals create opportunities for...
Today we get to speak with Evie! Over the past 8 years, she has marinated, soaked and absorbed the transformational and healing powers of gratitude. Not to mention the 20 years before that where I was on a continual quest to change and become the best version of...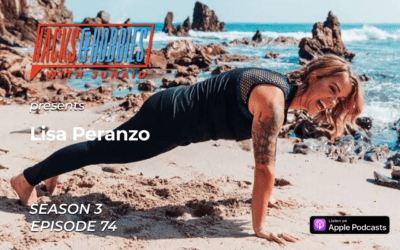 In this episode I get to speak with Lisa Peranzo. With a Masters in Human Behavior, almost 10 years in the fitness industry and multiple certifications, Lisa is determined to motivate you to reach those goals. Under her guidance, you will take control of your health...
Today, I get to speak with Munira Zahabi. She is an International Podcaster, Speaker, Entrepreneur, and "The Niche Navigator. She wrote the book "The Philosophy of Niche Principles when she struggled around picking a niche for herself which also made her really happy....