Our GuestDustin MillerWebsite :https://polyinnovator.space
Website : www.pod.co/polycast
Instagram : instagram.com/polyinnovator
Hacks to Take Away
Find out how he got into being an omni channel content creator.
Dustin share about how he started his first blog
He talks about innovation and creating change
Being able to keep that youthful curiosity is key to our human existence.
Getting used to his voice was easier than getting comfortable on camera.
Dustin wanted to prove to Gary Vee and all these other creators that you could make tons of content every day. And he created a strategy for it.
The more you get the gears moving, the more oil they become and easier to get moving.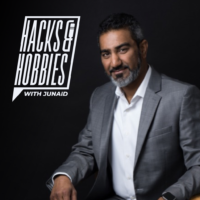 Junaid Ahmed has been a user experience designer for over 15 years. As a UX professional, he uses the user-centered design philosophy to come up with solutions. Trust the system, it works!
"People say that we only live once, but I believe in living every day!"
Junaid has been interviewing people from all walks of life on his podcast Hacks and Hobbies.