During the Pandemic a lot of the Actors, Producers and other folks weren't working in person on Films, TV, and other productions. But they were appearing and guesting on podcast shows.
IMDB announced on February 20th, 2020 that started accepting audio-only podcast episodes to the database. And as of November 18th, 2021 they had fully enabled both Podcast Series and Episodes to the database.
In the video below I walk you through how to add an episode to a show already on the IMDB platform.
Here's how to add new episode to your podcast on IMDB's database
Scroll to the bottom of the page and click on the button that says +Add episode
Sign In or Create a New Account using your Amazon, Google, Apple of Facebook Account or create a new IMDB account to make contributions to IMDB.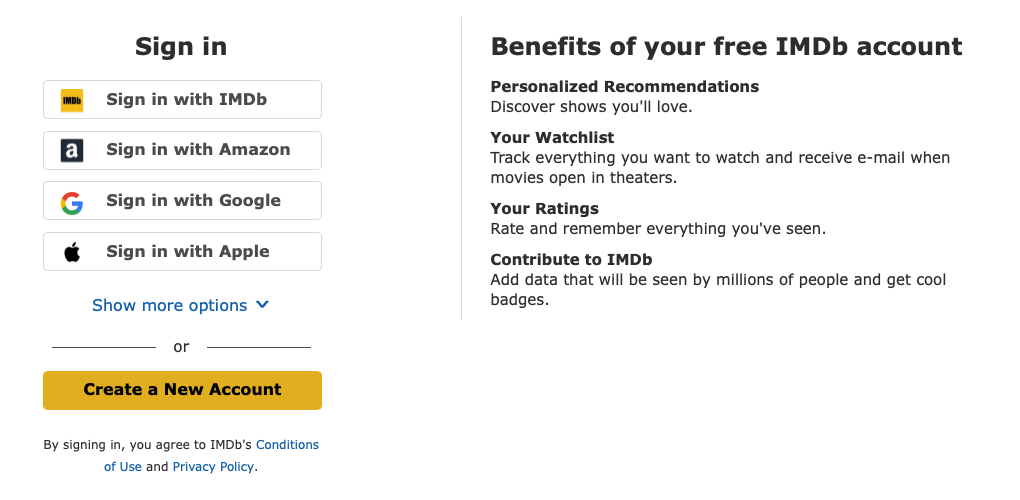 Adding a New Episode: Once you've signed in or created a new account you'll be taken to this page to Add the information about the new episode:
On the Adding a New Episode page simply Add the "Episode Title", "Original Air Date" & "Country". Number will be the Episode Number of the Episode.
For Example for E435 – Kirk Nugent – How to let the clients come to you

Episode Title: E435 – Kirk Nugent – How to let the clients come to you.
Original Air Date: August 18th, 2022
Country: USA
Number: 4.35 (this tells IMDB that this is episode 35 of season 4)

I am… you can choose the title that relates to you

producer/director/writer
a member of the cast/crew
a publicist/agent/official source
none of the above
A lot of people around the world contribute information to the IMDB and that is why each contribution is reviewed by others to make sure the information is accurate.
When I'm adding information with my account and it is my podcast I'll choose producer or member of the crew.
Once you've filled out this information, press the "Check these updates >>" button so you can further verify the information.
The system will come back and if there are no errors or warnings the updated section will be green and a 3rd button will appear at the bottom of the page. You are ready to Submit these updates to IMDB.
I actually want to add some of the "Recommended information to this Episode, mainly the Cast and Plot Summary
Choose the drop down for Cast and Plot Summaries and choose "Add 2 Credits" to Cast and "Add 1 item" to Plot Summaries
Once you're selected the new changes, click on "Re-check these updates >>"
Once you click the button, you'll be presented with new form fields to provide information for the new Cast and Plot Summaries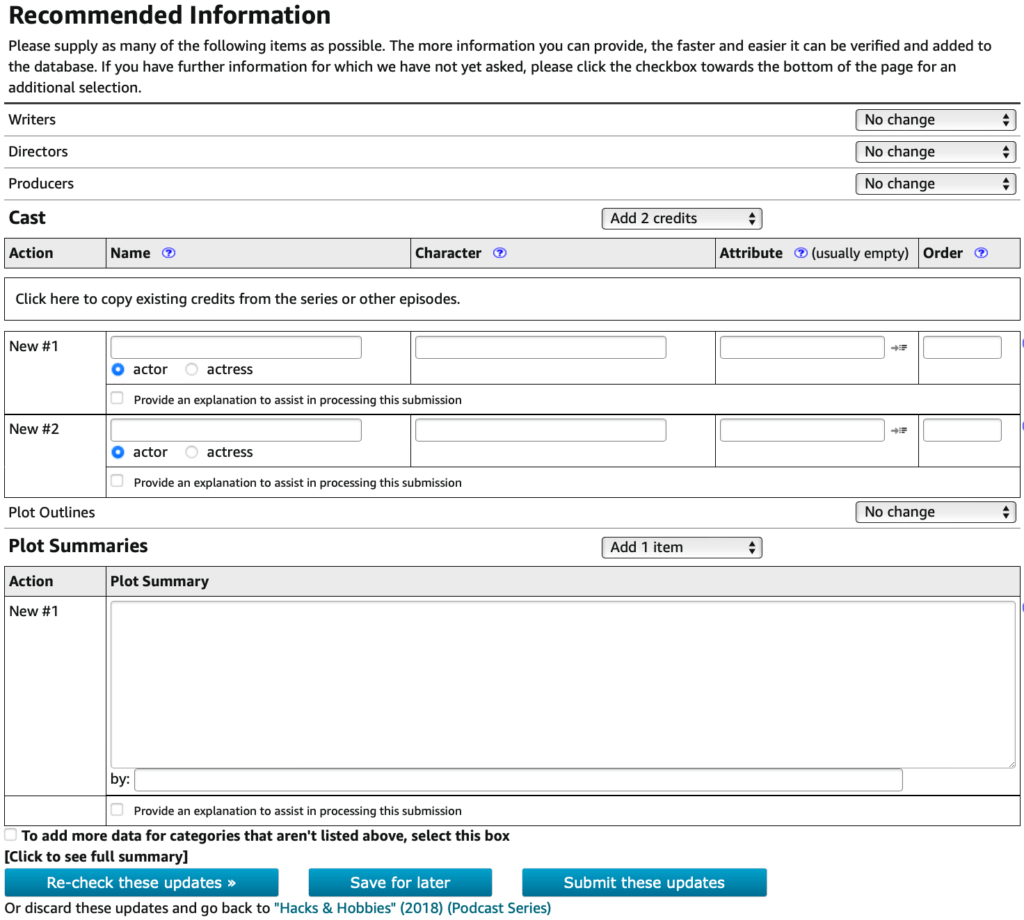 I'll add my name to the New #1 section, and since I already have a profile on IMDB with the Face it's easier to select.
Next in the "Character" column, I'll add (self) since I'm appearing as my self on the podcast.
I'll also enter my guests name Kirk R. Nugent.
Now enter the Plot Summary from the Podcast web page.
Once these changes are entered, click the "Re-check these updates >>"
The page will update and you'll see some Yellow Blocks with Warnings: simply choose "Warning understood, go ahead anyway, checkbox.
For my guest, there might not be an entry for them in the IMDB database. For this reason you'll need to select the radio box for "This is a different person not currenly listed – create 'Nugent, Kirk R.' OR let IMDb staff decide with the radio button below.
Once these changes are entered, click the "Re-check these updates >>"
You will then be presented with the page with Updates ready to be submitted.
Click on "Submit these updates" and you will be presented with a Thank You confirmation page.
Thank you for reading and following along this tutorial!
Enjoy the podcast and please feel free to ask questions.
Junaid Ahmed has been a user experience designer for over 15 years. As a UX professional, he uses the user-centered design philosophy to come up with solutions. Trust the system, it works!
"People say that we only live once, but I believe in living every day!"
Junaid has been interviewing people from all walks of life on his podcast Hacks and Hobbies.